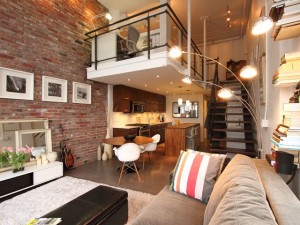 Renovating a condo can be a fulfilling and potentially rewarding experience. Often the floor plans and views in many Vancouver Condos are fantastic but the design and finishing required to mass produce the units creates an opportunity for the owner to add some personalization and improvement.
Recycled brick wall installations, floating vanities and faucets, and refinished concrete walls and floors are some unique renovation features we have done which have separated condos from other units in a development and also translated to increased value. There is often a misconception that renovating a condo won't be costly or time consuming because the size of the space is smaller than a house and the improvements seem more cosmetic than structural. In reality though a high end renovation requires an incredible amount of planning and coordination to ensure it is executed on time and on budget. A good designer is instrumental throughout the entire process. Please feel free to contact us if you are interested in meeting proven designers who may be a good fit for your project.
Here are some common planning considerations from our experience as experts in the field of high end condo renovations (shameless promotion for best Georgie winner for best Condo Renovation under $200,000)
1. Strata Requirements. The first step is to find out your strata requirements when renovating. They will typically require drawings of the proposed work, engineer letters of assurance if you are changing any interior walls, and stamped mechanical drawings if you plan to move plumbing fixtures, showers, drainage etc.
2. Permit Requirements. The city of Vancouver may require a field review where a building inspector comes to see the space before processing your permit application which will add on at least 2-4 weeks to the process. The permit application will also require the following:
scaled drawings showing as is and proposed work including existing walls and demolition plan.
"original signed" letter from the strata granting permission to apply for the permit.
Strata plan of the property the building is on.
Strata plan of the floor showing the strata unit within the floor.
City of Vancouver Building Permit Application
3. overlooked considerations when taking on a condo renovation:
Cleanliness. Hallways and elevators are shared common space, keep them clean and keep your neighbours happy. Leave drywall dust and cooperation from your neighbours will be met with resistance.
Access. Scheduling access for trades is very challenging as security in current developments deny front door and elevator access.
Parking. Arrange for extra spots for trades and underground fobs if possible, especially during cleanup phases.
Noise. Keep noise to a minimum and definitely during business hours. Your neighbours want to come home to quite, not banging ductwork or coring through concrete.
Neighbour Consent. If you are planning on moving drains in suspended concrete slabs you will need to get the consent from your neighbours below or above as it will be extremely disruptive.
Feel free to send us a line if you would like to learn about some of our past projects or if you are interested in renovating and would like a realistic estimate on what it will cost and how long it should take.