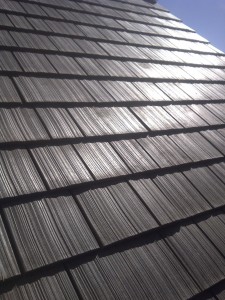 We recently had a great experience with enviroshakes on the roof of our Trout Lake project. The product is attractive, made from recycled materials, works with standard roofing tools, and has an impressive warranty. As standard shakes each one is individually nailed which takes more time than traditional asphalt which results in higher install cost. Phillip De Montigny our installer who owns Topside Roofing was awesome which made the cost and quality predictable. Here is a closer look at what this product is all about.
Definition:
Enviroshake is a durable and attractive premium quality roofing product that is the only composite on the market that authentically looks like a natural silvered cedar shake.  95% of the content is derived from reprocessed post-industrial polymers, and fibers (recycled plastics, rubber from used tires, cellulose fibres from flax and/or hemp).  Find out more from this video:
Enviroshake Featured on The Discovery Channel.
Warranty:
Generally speaking, the warranty is for 50 years.  The warranty is
transferable and non-pro-rated to the new owner(s) for a period of 50 years from date of manufacture stamped on the product.
Benefits:
The product looks like cedar (even achieves and maintains a 'weathered' look after a few months), is low maintenance (translating into cost-savings), offers a 50-year warranty, may be installed with standard roofing tools, is available in several variations, is fire resistant, and is a second life for materials that would otherwise be sent to a landfill.
Problems:
The few issues that arose, while searching online for problems with this product, were not product-related.  If anything, problems were considered to be installer related.  This is important. The warranty information sheet states that the product should be  "installed by a Certified Installer that has proof of valid certification from Enviroshake" to ensure the warranty remains effective. To find a certified installer in your area, it's worth a call to Enviroshake at 1.866.423.3302.
Cost:
The cost is comparable to premium cedar.  See the Enviroshake vs. Natural Cedar 50 year cost comparison below.
Installation:
Installation is similar to the methods used to put on traditional roofing materials. Find out more about the product and its installation by watching these videos.